Managing Director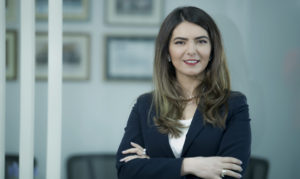 Mrs. Arijeta Neziraj Elshani is the Managing Director of Deposit Insurance Fund of Kosovo since August 2019. She has experience more then 10 years in public finance and treasury functions.
Prior to her engagement at DIFK, Arijeta has been part of Ministry of Finance for over a decade contributing to many important processes and projects towards the achievement of the Ministry of Finance's objectives. Among other involvements, within her position as a Deputy General Director of the Treasury of Kosovo in the Ministry of Finance, Mrs. Neziraj Elshani headed many delegations for the negotiation of international financial agreements with the World Bank, European Bank for Reconstruction and Development, Saudi Fund for Development etc.
Arijeta holds an MA degree in Public Administration & Public Policy from Rochester Institute of Technology through American University in Kosovo. She completed her BA degree in Management and Entrepreneurship at the American University in Kosovo.